Strategic Marketing Management (SMM) Track
September 18, 2023
2023-11-01 8:42
Strategic Marketing Management (SMM) Track
Strategic Marketing Management Track
 Merging strategy with marketing for market dominance
Track Overview
The Strategic Marketing Management (SMM) Track is a specialized pathway focusing on the intersection of strategy and marketing. It equips participants with the tools to craft, implement, and evaluate marketing strategies in alignment with organizational goals. The track delves deep into market analysis, segmentation, positioning, and the strategic use of marketing mix elements. By understanding the broader business context, participants learn to drive sustainable market growth and achieve competitive advantage.
Track Consists of 3 CMI Courses
Find the details below
1: Strategic Marketing
Strategic marketing is a methodical approach to promote a company's products or services in alignment with its broader objectives. It encompasses market research, target segmentation, brand positioning, product development, pricing, promotion, distribution, and ongoing evaluation. The goal is to ensure effective market presence, align with the company's vision, and achieve sustainable growth.
In this course, you will be introduced to:
Integrated Project Management

Audience Engagement and Market Analysis

Strategic Branding and Messaging

Company Overall Planning and Alignment

Resource and Product Optimization

Budgeting and Financial Strategy
You can find the curriculum below:
2: Corporate Communication Strategy
Corporate Communication Strategy is a structured approach that organizations use to convey information to internal and external stakeholders effectively. It outlines the methods and channels for disseminating key messages, aligning communication with the organization's objectives, and managing its reputation. This strategy encompasses public relations, marketing, internal communication, and crisis management, all aimed at building trust, enhancing the company's image, and achieving strategic goals. It ensures consistency in messaging and fosters engagement with various stakeholders for long-term success.
In this course, you will be introduced to:
Avoiding Miscommunication

Enhancing Services

Fostering Transparency

Building Brand Awareness

Boosting Employee Engagement

 Attracting Top Talent
You can find the curriculum below:
3: Research for Strategic Development
Research in strategic development aids businesses in making informed decisions, anticipating market trends, and gaining a competitive edge. Through methods like sampling and data analysis, organizations can discern patterns, innovate solutions, and adapt proactively. By grounding strategy in thorough research, firms ensure resilience and sustained growth.
In this course, you will be introduced to:
Communication Mastery

Project & Data Management

Research & Analysis

Logical & Rational Thought

Creativity & Problem Resolution

Detail & Time Management
You can find the curriculum below:
Don't miss the chance and enroll now for $900 instead of $1,500 and save $600
CMI Recognition & Accreditation
Once you finish your Track you will be eligible to use this CMI Foundation Chartered Manager badge across your credentials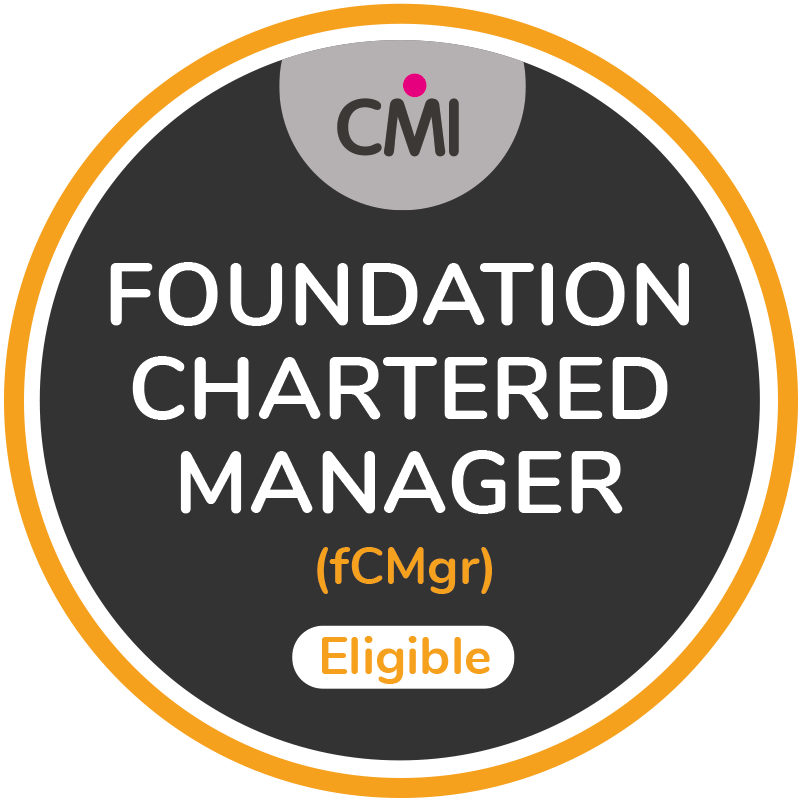 CMI Employer Accreditation offers you a unique opportunity to be able to reward your teams' with nationally-recognised qualifications, as part of your in-house training. Give your team the competitive edge and provide them with practical tools that can be applied straight into the workplace.
CMI represents the benchmark for Management and Leadership skills. Backed by our Royal Charter we are the only professional body able to offer Chartered status for your managers and leaders. Included with accredited solutions is 12 months membership with CMI, offering digital resources, networking, mentoring and skills support.
Each Chartered Manager boosts their business revenue by £62k every year
74% of students on CMI accredited courses acquired the skills to lead change and innovation
81% of students on CMI accredited courses recognized their ability to develop people and capabilities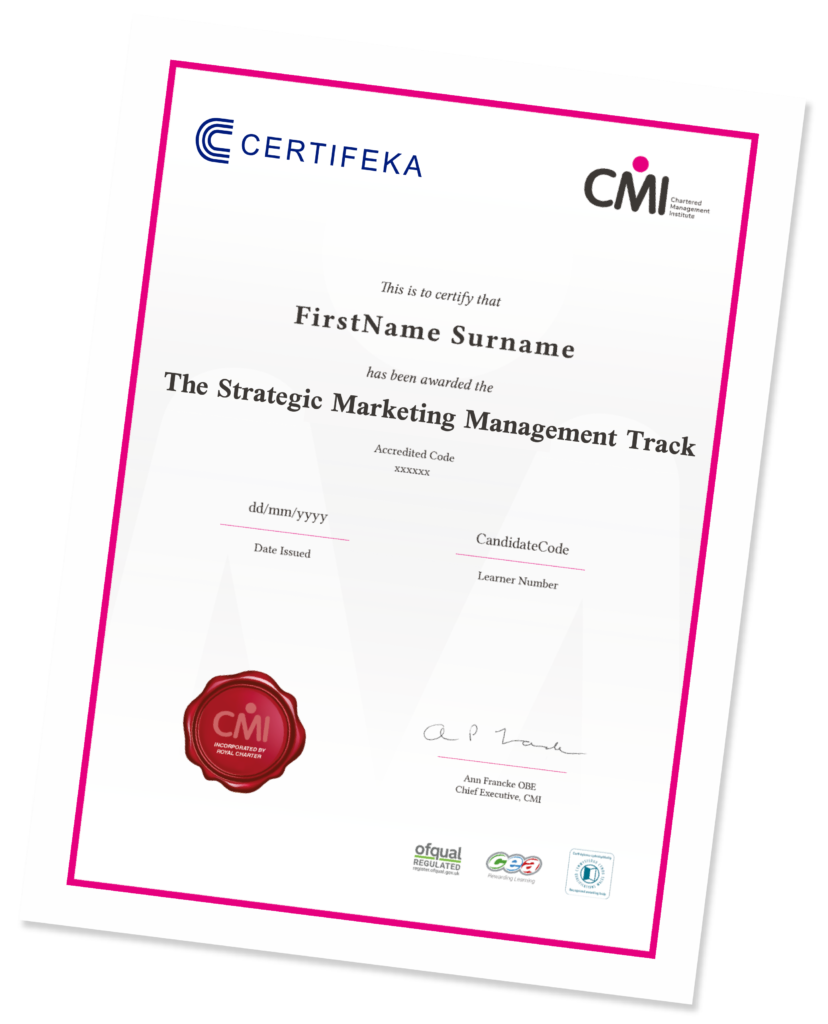 Hear what our students and alumni have to say about their experience with our SMM Track
"The SMM Track was a comprehensive journey through strategic marketing, touching all its vital facets. It's transformed my perspective on market strategies."
"From communication strategies to research techniques, the SMM Track offers a holistic view on modern marketing. It's been invaluable in broadening my skills."
"Embarking on the SMM Track was the best decision for my career. Each course, meticulously designed, gave me a unique set of tools to navigate today's marketing challenges."
"The balance of theory and practice in the SMM Track is unparalleled. It's shaped my approach to marketing, making it more strategic and result-driven."