Strategic Human Resources Management (SHRM) Track
September 18, 2023
2023-11-01 8:42
Strategic Human Resources Management (SHRM) Track
Strategic HR Management Track
Aligning HR with organizational success
Track Overview
The Strategic Human Resources Management (SHRM) Track focuses on aligning HR practices with an organization's broader goals. It emphasizes proactive talent management, performance metrics, and fostering a positive organizational culture. By leveraging human capital for competitive advantage, this approach aims to maximize productivity and innovation. In essence, SHRM integrates HR strategies to directly contribute to the organization's long-term success.
Track Consists of 3 CMI Courses
Find the details below
1: Strategic Human Resources
Strategic Human Resource Management integrates human resources strategies with an organization's key objectives. It emphasizes proactive talent management, aligns performance metrics with business goals, fosters a conducive organizational culture, and leverages human capital for competitive advantage. Through this approach, organizations aim to maximize productivity and innovation from their workforce.
In this course, you will be introduced to:
Strategic Workforce Planning

Performance and Talent Management

Competitive Compensation Strategy

Evaluation and Continuous Improvement

Culture and Diversity Management

Strategic Leadership and Alignment
You can find the curriculum below:
2: Organizational Behavior
Organizational behavior is how individuals and groups act within organizations. It combines elements from psychology, sociology, and anthropology to understand and predict workplace behavior, enhancing organizational performance and employee well-being.
In this course, you will be introduced to:
Worker insights.

Boost motivation

Enhance work

Build trust

Achieve goals

Improve relations
You can find the curriculum below:
3: Personal Development & Leadership
Personal Development involves self-improvement through enhancing skills, knowledge, and self-awareness. Leadership is the capacity to inspire and guide others, combining interpersonal skills, strategic vision, and trust-building.
In this course, you will be introduced to:
Vision and Mission Mastery

Strategic Management

Team Leadership

Financial Acumen

Organizational Stability

Time and Task Management
You can find the curriculum below:
Don't miss the chance and enroll now for $900 instead of $1,500 and save $600
CMI Recognition & Accreditation
Once you finish your Track you will be eligible to use this CMI Foundation Chartered Manager badge across your credentials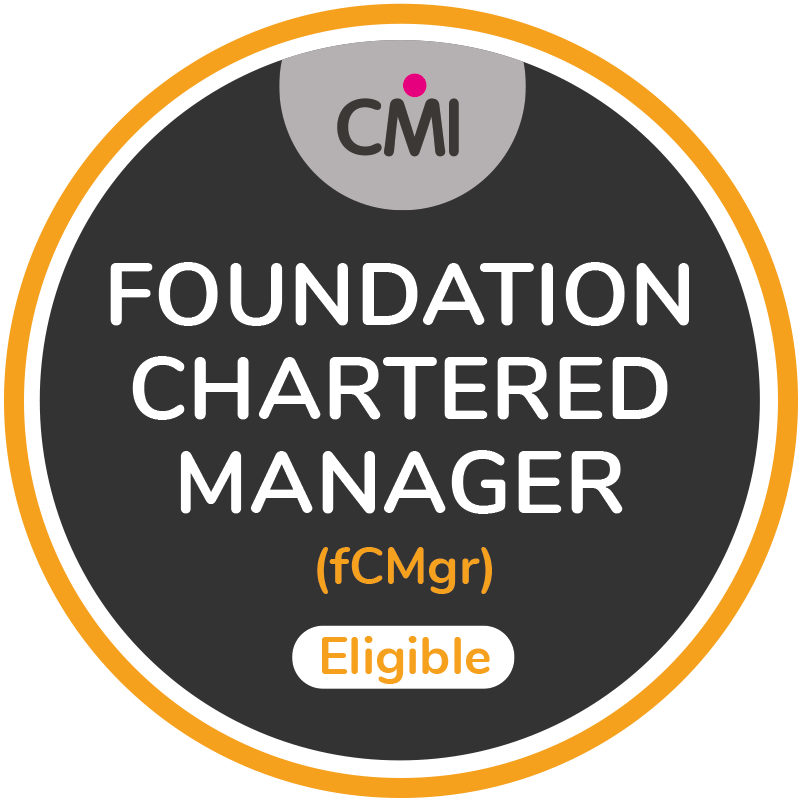 CMI Employer Accreditation offers you a unique opportunity to be able to reward your teams' with nationally-recognised qualifications, as part of your in-house training. Give your team the competitive edge and provide them with practical tools that can be applied straight into the workplace.
CMI represents the benchmark for Management and Leadership skills. Backed by our Royal Charter we are the only professional body able to offer Chartered status for your managers and leaders. Included with accredited solutions is 12 months membership with CMI, offering digital resources, networking, mentoring and skills support.
Each Chartered Manager boosts their business revenue by £62k every year
74% of students on CMI accredited courses acquired the skills to lead change and innovation
81% of students on CMI accredited courses recognized their ability to develop people and capabilities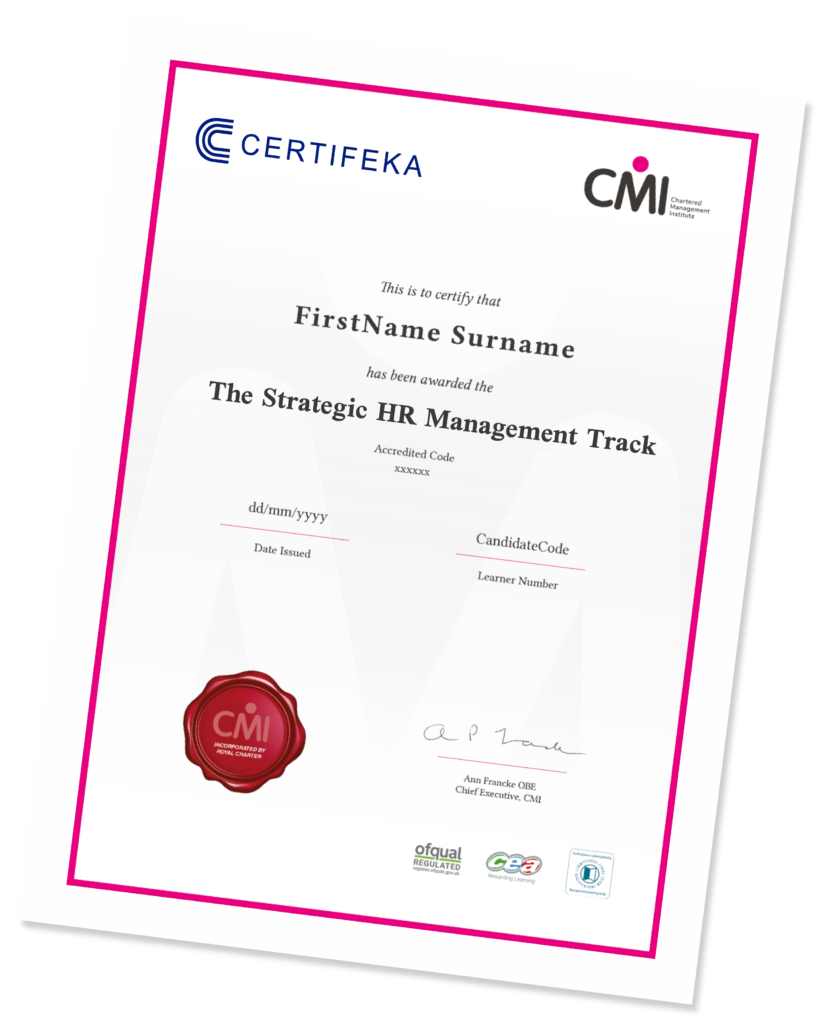 Hear what our students and alumni have to say about their experience with our SHRM
"The SHRM Track transformed my understanding of HR. The blend of strategy and human resources concepts was precisely what I needed for my career advancement."
"The blend of theory and practical application in the SHRM Track is outstanding. It gave me tools and strategies that I could implement immediately in my organization."
"Every HR manager or executive should consider taking the SHRM Track. It not only deepens your understanding but also equips you with a strategic mindset essential for today's business world."
"The SHRM Track is comprehensive, insightful, and, most importantly, relevant to current HR challenges. It has significantly improved my strategic decision-making skills in the HR domain."