Strategic Business Management (SBM) Track
September 18, 2023
2023-11-01 8:44
Strategic Business Management (SBM) Track
Strategic Business Management Track
Strategic thinking for sustainable business growth.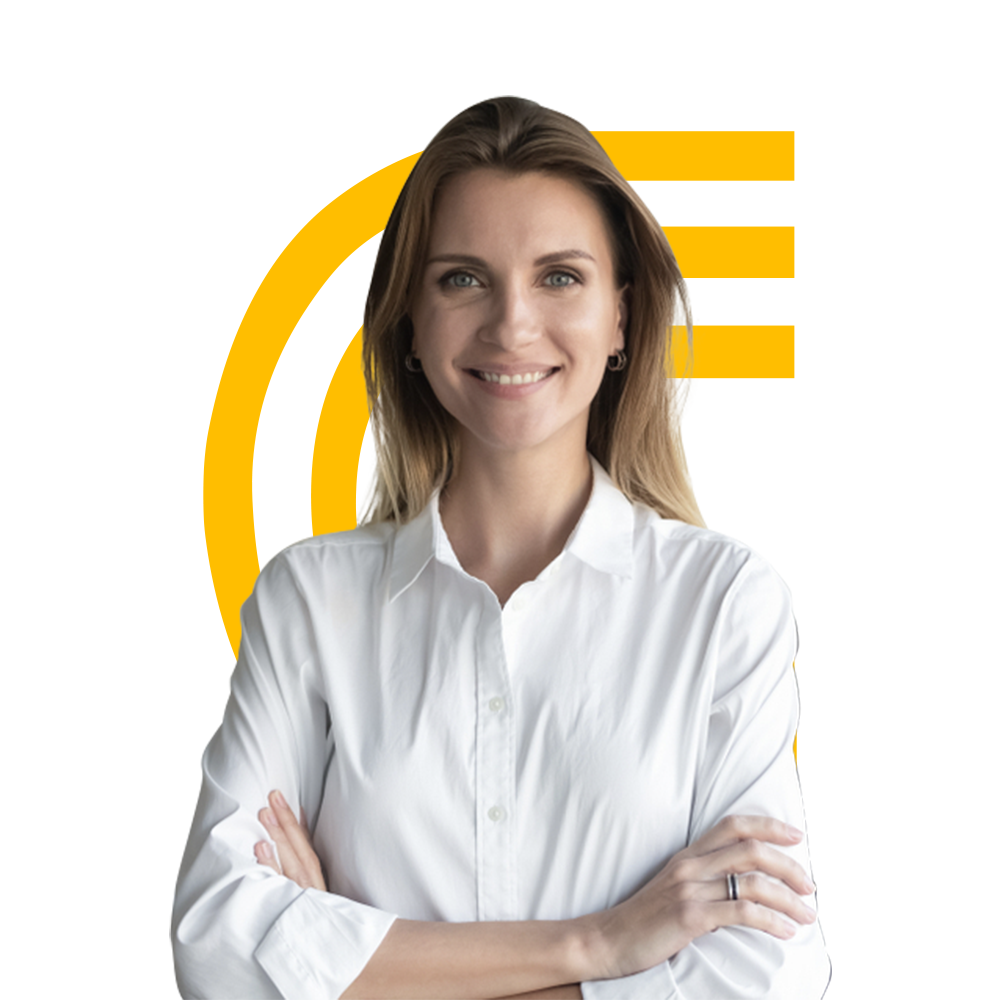 Track Overview
The Strategic Business Management (SBM) Track centers on the integration of strategic thinking with business operations. It delves into decision-making, long-term planning, and optimizing organizational performance. By analyzing market trends, internal strengths, and external challenges, this approach prepares businesses for sustainable growth. In essence, SBM provides a holistic view of management that aligns all facets of a business towards its overarching objectives.
Track Consists of 3 CMI Courses
Find the details below
1: Strategic Planning
Strategic planning is a methodical approach used by organizations to set long-term goals and action plans, grounded in their mission and vision. It evaluates the organization's present situation, external opportunities and threats, and internal strengths and weaknesses to devise strategies for desired results. This ensures optimal resource allocation and a cohesive organizational direction. The plan might require periodic revisions due to changing conditions or priorities.

In this course, you will be introduced to:
Strategic Thinking 

Project Management 

Proactive Attitude  

Sustainable Business Practices

Risk Measurement/Prevention

Enterprise Structuring
You can find the curriculum below:
2: Corporate Communication Strategy
Corporate Communication Strategy is a structured approach that organizations use to convey information to internal and external stakeholders effectively. It outlines the methods and channels for disseminating key messages, aligning communication with the organization's objectives, and managing its reputation. This strategy encompasses public relations, marketing, internal communication, and crisis management, all aimed at building trust, enhancing the company's image, and achieving strategic goals. It ensures consistency in messaging and fosters engagement with various stakeholders for long-term success.
In this course, you will be introduced to:
Avoiding Miscommunication

Enhancing Services

Fostering Transparency

Building Brand Awareness

Boosting Employee Engagement

 Attracting Top Talent
You can find the curriculum below:
3: Personal Development & Leadership
Personal Development involves self-improvement through enhancing skills, knowledge, and self-awareness. Leadership is the capacity to inspire and guide others, combining interpersonal skills, strategic vision, and trust-building.
In this course, you will be introduced to:
Vision and Mission Mastery

Strategic Management

Team Leadership

Financial Acumen

Organizational Stability

Time and Task Management
You can find the curriculum below:
Don't miss the chance and enroll now for $900 instead of $1,500 and save $600
CMI Recognition & Accreditation
Once you finish your Track you will be eligible to use this CMI Foundation Chartered Manager badge across your credentials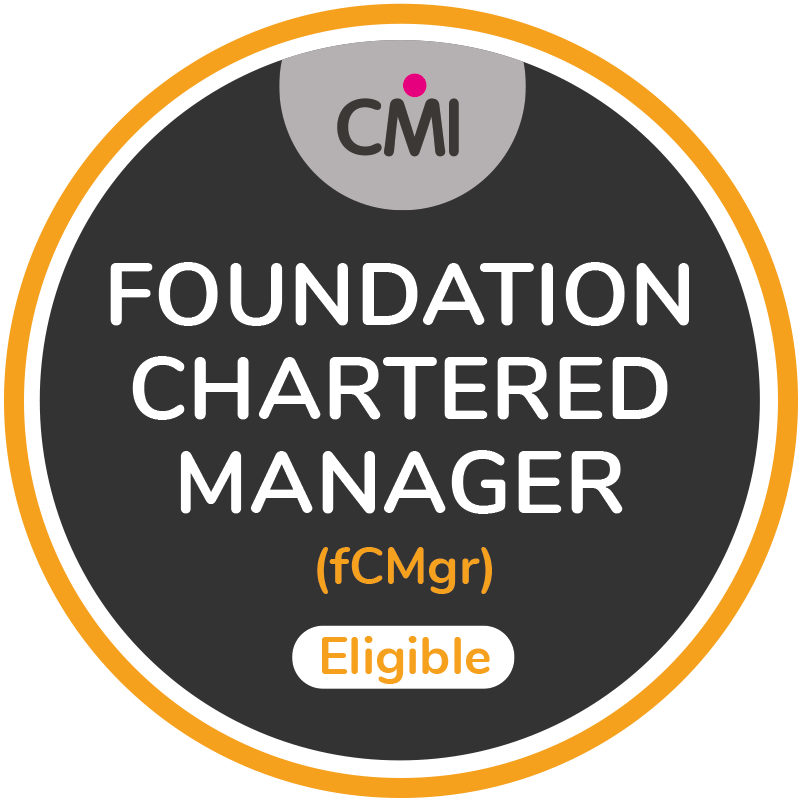 CMI Employer Accreditation offers you a unique opportunity to be able to reward your teams' with nationally-recognised qualifications, as part of your in-house training. Give your team the competitive edge and provide them with practical tools that can be applied straight into the workplace.
CMI represents the benchmark for Management and Leadership skills. Backed by our Royal Charter we are the only professional body able to offer Chartered status for your managers and leaders. Included with accredited solutions is 12 months membership with CMI, offering digital resources, networking, mentoring and skills support.
Each Chartered Manager boosts their business revenue by £62k every year
74% of students on CMI accredited courses acquired the skills to lead change and innovation
81% of students on CMI accredited courses recognized their ability to develop people and capabilities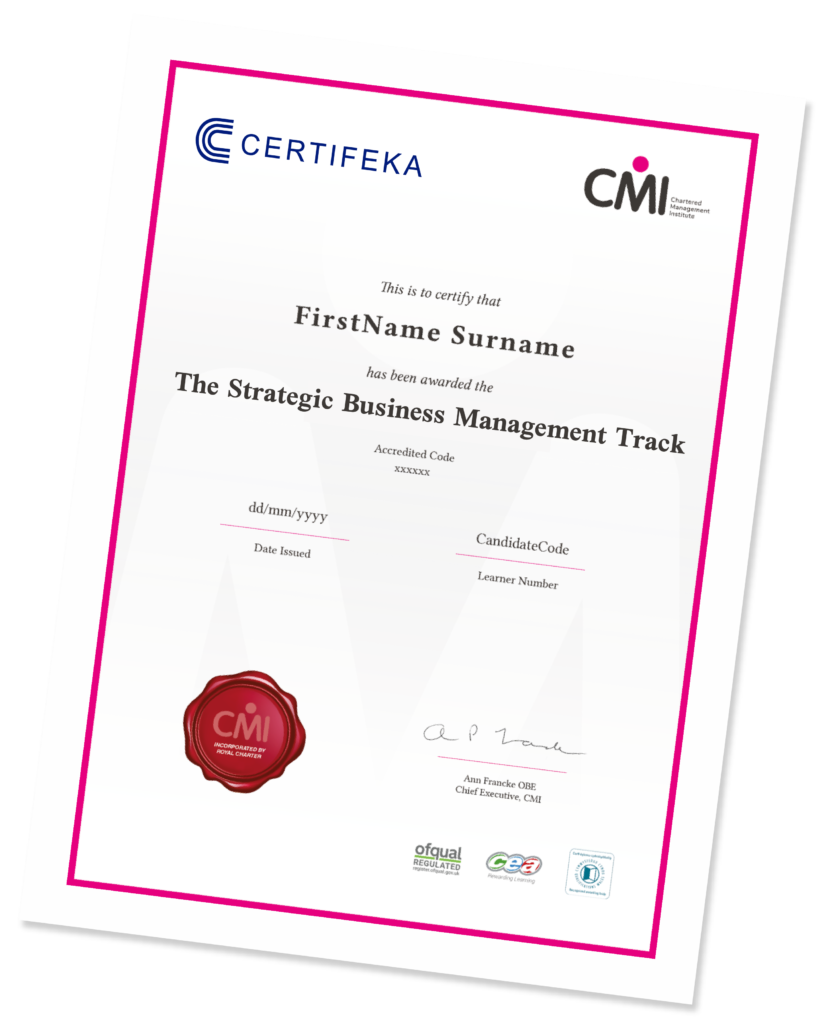 Hear what our students and alumni have to say about their experience with our SBM Track
"The SBM Track equipped me with skills to navigate complex business scenarios. Great choice!"
"I can confidently say that the SBM Track has given me a competitive edge in the business world. The knowledge I gained is invaluable."
"Every module in the SBM Track was enlightening. It was the perfect blend of strategy, communication, and leadership training."